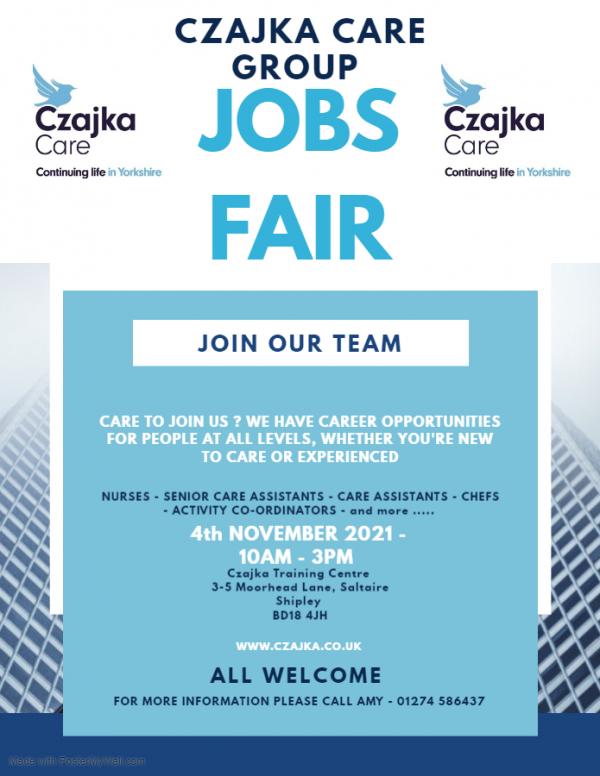 Care to join us?
Anyone looking for a rewarding new role in care is being encouraged to attend Czajka Care Group's Jobs Fair on Thursday 4th November, between 10am and 3pm, at our dedicated training centre on 3 Moorhead Lane, Saltaire, Shipley BD18 4JH.
Roles including nurses, senior care assistants, care assistants, chefs and activity co-ordinators are available and people both with experience, or those considering a move into the industry for the first time, are being encouraged to come and find out more about the career opportunities available.
Czajka Care Group is owned and run by Konrad Czajka and his sons Dominic and Daniel. The dedicated team at Czajka provides respite care, short-breaks, day care, full-time care and palliative care for people aged 65 and over at Fairmount Nursing Home and Brookfield Care Home in Nab Wood, Shipley and Currergate Nursing Home in Steeton and Beanlands Nursing Home in Cross Hills, between Skipton and Keighley.
Czajka Care Group also owns and runs Staveley Birkleas Nursing Home - the specialist nursing home in the North - which cares for young people from the age of 18 through to 64, who have a variety of needs including amputees, people with brain injuries, Multiple Sclerosis (MS), Motor Neuron Disease, Huntington's, Epilepsy and many other complex conditions.
Czajka Care Group's managing director, Konrad Czajka, said: "We are looking for both the next generation of care workers, as well as those who are already working in the industry, and we are keen to open up a career path in care to people of all ages.
"We are very lucky to have a loyal team at Czajka, many of whom have worked with us for several decades, so we have lots of really great people with vast experience who can give a first-hand account of what it is really like to work in our industry.
"There is a misconception that you must have certain experience or particular qualifications to get into care, but we can teach people the skills needed and support them to achieve all the relevant qualifications. We are looking for kind and understanding people who are considerate and compassionate. We can then help people to develop the skills and experience they will need to succeed.
"We will explain what a typical day entails – although no day is ever the same – and run through the job roles available, as well as the support, training and guidance available when anyone becomes part of the Czajka Care Group family."
For more about the Jobs Fair contact Amy Bland on 01274 586 437, email amy.bland@czajka.co.uk or visit www.czajka.co.uk
Other Recommended Articles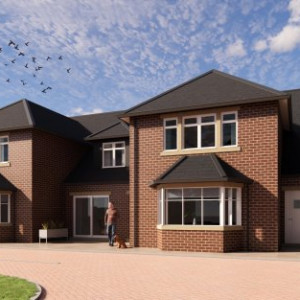 Half of the new retirement homes being built at the popular Fairmount Park development in Nab Wood, Shipley have already sold off plan.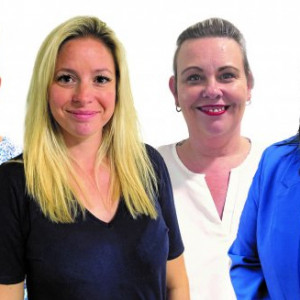 We have made some key new appointments and promotions across our three nursing and care homes in Nab Wood and Steeton.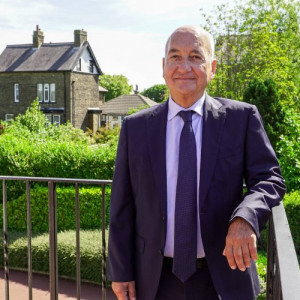 We have been reaccredited with the prestigious Gold Standard Framework (GSF) Quality Hallmark Award at two of our homes.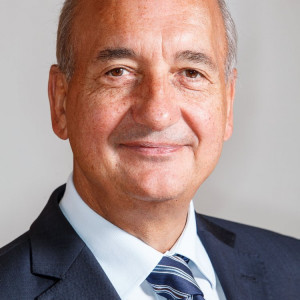 This summer we are celebrating our 40th anniversary.
Czajka Care Group was established in Saltaire, West Yorkshire, in 1983. Our owner and managing director, Konrad Czajka has recently been recognised for his outstanding commitment to the care industry, attending a special Garden Party at Buckingham Palace as part of coronation celebrations.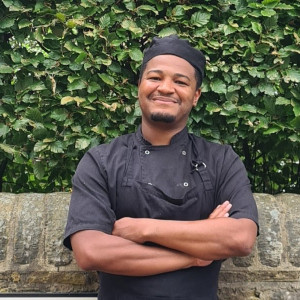 We have launched a recruitment drive to grow our team of qualified chefs and we are already enticing candidates who are turning their backs on the bright lights of city centre venues, in return for daytime working hours.
Karl Minott is the latest chef to join Czajka Care Group after previously working as head chef in city centre kitchens for one of Europe's largest craft brewers and serving up BBQ style food for a well-known restaurant chain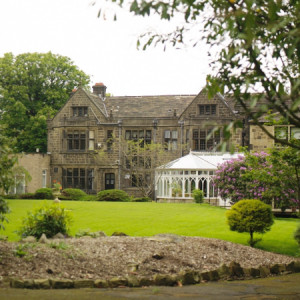 Work to extend our popular Steeton Nursing Home has started, after planning approval was granted for the first phase of development, which will create dozens of new full-time jobs.