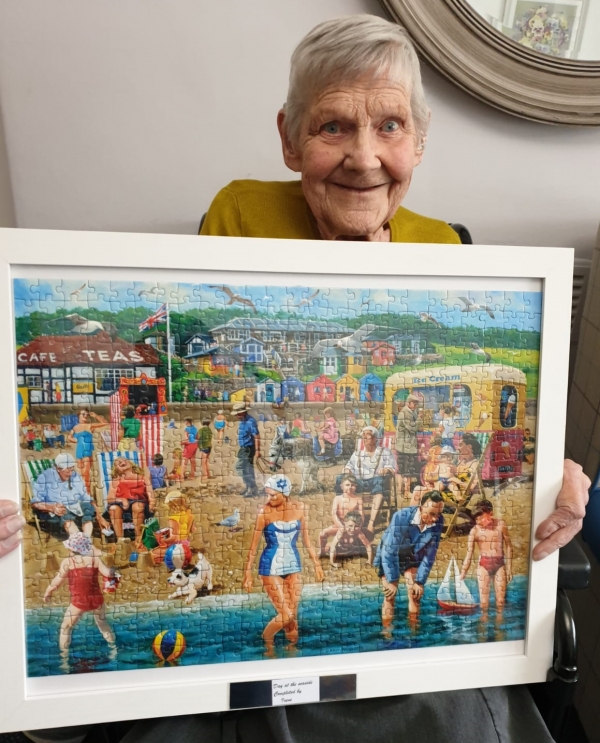 Irene finds the final piece of the jigsaw - again and again
A 93 year old resident at Czajka Care Group's Brookfield Care Home in Nab Wood, Shipley has stunned everyone at the home with her ability to complete all of its jigsaw puzzles in a matter of months.
Irene Askew, who was born and grew up in Leeds, moved to Brookfield from a care home in Leeds two years ago, following a long hospital admission. She had been classed as needing palliative care, but the team at Czajka soon realised, that despite her frailty, Irene had a very active brain and was keen to undertake mental challenges.
Following her move to Brookfield, and as her health improved, her carers were keen to ensure Irene remained mentally stimulated and asked her if she would like to complete some puzzles.
Tracey Hinchliffe, who is the registered manager at Brookfield Care Home, explained: "We knew that Irene was keen on puzzles and that she took great enjoyment in completing a jigsaw, but she soon made her way through our entire stock of puzzles we had at the home, so we've now bought a range of larger more complicated ones for her and other residents.
"We couldn't believe how quickly Irene completed them! Her latest accomplishment has seen Irene complete a 500 piece puzzle, called a day at the seaside, single handily in under just two weeks, which we have had specially framed. It will now take pride of place in the home. We have all been so impressed, and many of her friends in our home have asked me to give Irene their puzzles to complete as she is so speedy! Irene is also a keen Sudoku and word search enthusiast and we make sure she has plenty of those books to keep her entertained too."
Irene who was born in 1926, had two brothers and sisters and was married to her husband George for seven years. She used to work as an office clerk for Montegue Burtons tailoring company. In retirement she became a member of a local walking group, enjoyed gardening and volunteered at Older Ppeople At Leisure (OPAL). She moved to Brookfield to be closer to her niece and nephew.
Irene said: "I enjoy doing word searches and puzzles. Before I was poorly I enjoyed walking reading and doing crafts, and since moving to Brookfield I have been able to join in with lots of the craft activities including painting and making cards. It's the challenge of a puzzle that appeals to me and I find it quite relaxing too, everyone has made a real fuss about my latest puzzle and I feel proud to have had it framed. I can't wait for the next one, which will be even bigger and better!"
Other Recommended Articles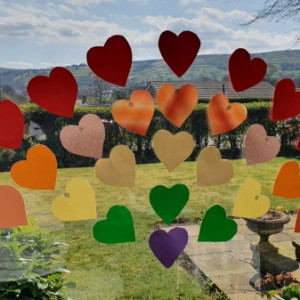 Mother Teresa said 'It's not about how much we give but how much love we put into giving' and we have certainly experienced the kindness and love of so many throughout the Covid-19 pandemic and lockdown.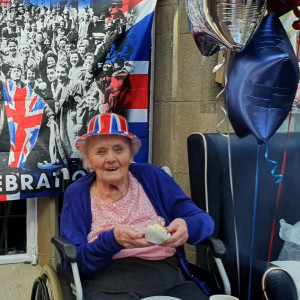 Every one of our homes pulled out all the stops for VE Day. It was an important milestone to celebrate, as many of our residents lived through it, and it was incredible to see the creativity and thoughtful planning that went into the day. With specially made VE Day commemorative cakes, buns and pies alongside decorations and musical trips down memory lane, we were able to safely mark the 75th anniversary of VE Day in style.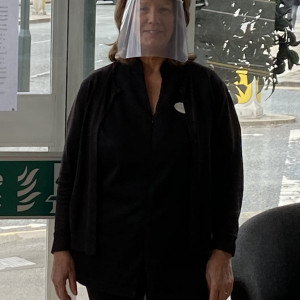 The care and thoughtfulness shown to our hard working staff from local schools and businesses has been humbling. We have been able to supplement our own supplies of PPE equipment with donations of face visors from Bradford Grammar School, Hanson Academy, Five Landis and Nautical Vapes. BHP Accountants also arranged for a donation of face visors via 'Made In Yorkshire' which were manufactured by SI Mouldings.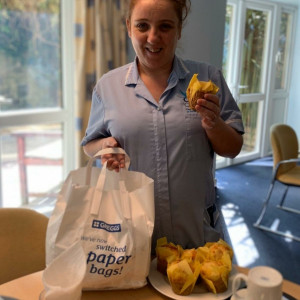 Food hampers, chocolate treats and break time snacks from Greggs, Prep N Go, Morrisons, Dominos and local plumber James Holden, have all been gratefully received and eagerly consumed over the last few weeks!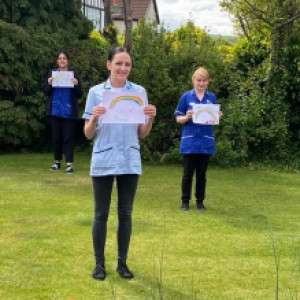 The letters and artwork we have received from children at Thackley Primary School, Crossley Hall Primary School and the grandchildren of our residents and children and grandchildren of our staff has really bought a smile to so many faces. The bright and positive pieces of artwork have been lovingly made into inspirational displays taking pride of place in all five of our homes. They act as a constant reminder of the support we have.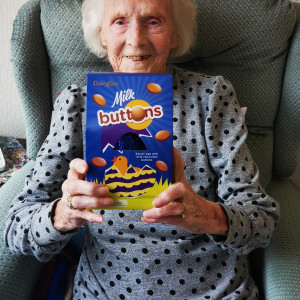 Our managing director, Konrad Czajka, has praised the dedicated staff at our five nursing and care homes and he has also been humbled by the strength of the local community spirit and messages of support received.