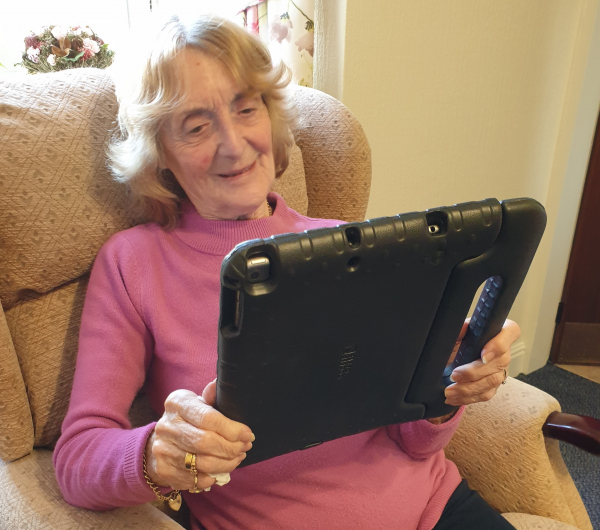 Virtual visits are a big hit with our residents
We have invested in the latest technology across all of our five nursing and care homes and introduced a new 'virtual visiting' system that is immediately proving popular with our residents and their families.
Due to the Covid-19 pandemic, we have followed Government guidelines and restricted all non-essential visitors to our Fairmount Nursing Home, Brookfield Care Home and Staveley Birkleas Nursing Home, which are all in Nab Wood near Shipley, and our Currergate Nursing Home in Steeton and Beanlands Nursing Home in Cross Hills.
All of the homes already benefit from high speed WiFi enabling residents to use the internet to stay in touch with family and friends via social media and Skype, but newly introduced tablets mean even more residents can chat with their families and friends using Facetime, WhatsApp and other apps, whilst visits are restricted.
Konrad Czajka, managing director of Czajka Care Group, said: "To minimise the risk of transmission of Covid-19, and to ensure that we follow the most recent Government guidelines, we have of course restricted all non-essential visitors to our homes. In order to reduce the impact on our residents and their families, technology is allowing us to overcome this temporary change, with the use of Facetime, Skype calls and social media all playing their part in keeping everyone connected.
"We have found that our residents are very open to the whole experience and with the help of our wonderful team of carers and activity co-ordinators we are able to schedule virtual visits for our residents with their families and friends. The virtual visits have been a big hit with our residents, who are aged between 18 and over 100 years old, and we are also continuing to use Alexa and other devices to access news, music and talking books for them too."
Many residents already have their own phones and tablets, especially those that live at our Staveley Birkleas Nursing Home, where we care for young people aged between 18 and 64 with physical disabilities that prevent them from looking after themselves in their own homes. Konrad added: "We already have lots of tablets in our communal areas for our younger residents to use, in addition to their own personal devices, and have made them available to our retirement communities at Fairmount Park in Nab Wood and Currergate Mews in Steeton too."
Konrad added: "Our retired residents who live in our two safe and secure retirement developments are able to easily access the internet on their own devices, but we have also offered the use of our new tablets, alongside help and guidance with how best to connect virtually. Our residents are also able to enjoy the acres of our mature, well-kept gardens to take a daily walk, as well as help with the planting and maintenance of our vegetable patches, which is great for mental wellbeing.
"We are thrilled with how the virtual visiting has quickly taken off and also been very touched by the number of lovely letters and drawings we have received from children in our local community. Each day creative pictures and messages arrive from children, who are currently not able to go to school, and receiving this correspondence is a daily delight for so many of our residents."
To make arranging the virtual visiting even easier, we have created new email addresses that are managed by our team. These are: brookfieldcarehome@icloud.com; fairmountnursinghome@icloud.com; staveleybirkleas@icloud.com; currergate@icloud.com; beanlandsnursinghome@icloud.com If you have any questions just give us a call and we can run through how everything works.
Other Recommended Articles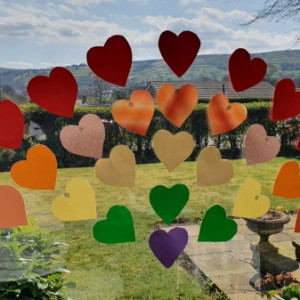 Mother Teresa said 'It's not about how much we give but how much love we put into giving' and we have certainly experienced the kindness and love of so many throughout the Covid-19 pandemic and lockdown.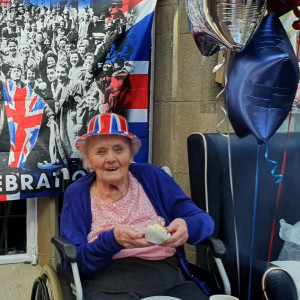 Every one of our homes pulled out all the stops for VE Day. It was an important milestone to celebrate, as many of our residents lived through it, and it was incredible to see the creativity and thoughtful planning that went into the day. With specially made VE Day commemorative cakes, buns and pies alongside decorations and musical trips down memory lane, we were able to safely mark the 75th anniversary of VE Day in style.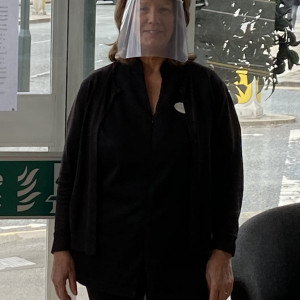 The care and thoughtfulness shown to our hard working staff from local schools and businesses has been humbling. We have been able to supplement our own supplies of PPE equipment with donations of face visors from Bradford Grammar School, Hanson Academy, Five Landis and Nautical Vapes. BHP Accountants also arranged for a donation of face visors via 'Made In Yorkshire' which were manufactured by SI Mouldings.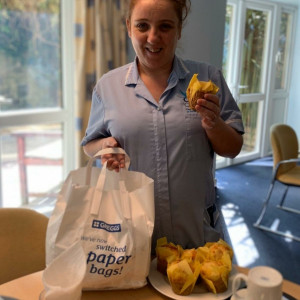 Food hampers, chocolate treats and break time snacks from Greggs, Prep N Go, Morrisons, Dominos and local plumber James Holden, have all been gratefully received and eagerly consumed over the last few weeks!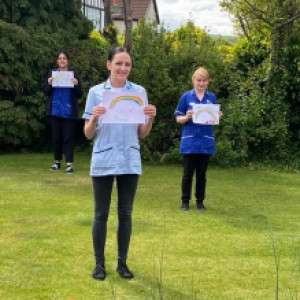 The letters and artwork we have received from children at Thackley Primary School, Crossley Hall Primary School and the grandchildren of our residents and children and grandchildren of our staff has really bought a smile to so many faces. The bright and positive pieces of artwork have been lovingly made into inspirational displays taking pride of place in all five of our homes. They act as a constant reminder of the support we have.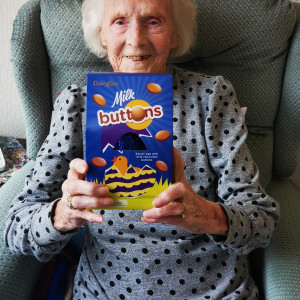 Our managing director, Konrad Czajka, has praised the dedicated staff at our five nursing and care homes and he has also been humbled by the strength of the local community spirit and messages of support received.