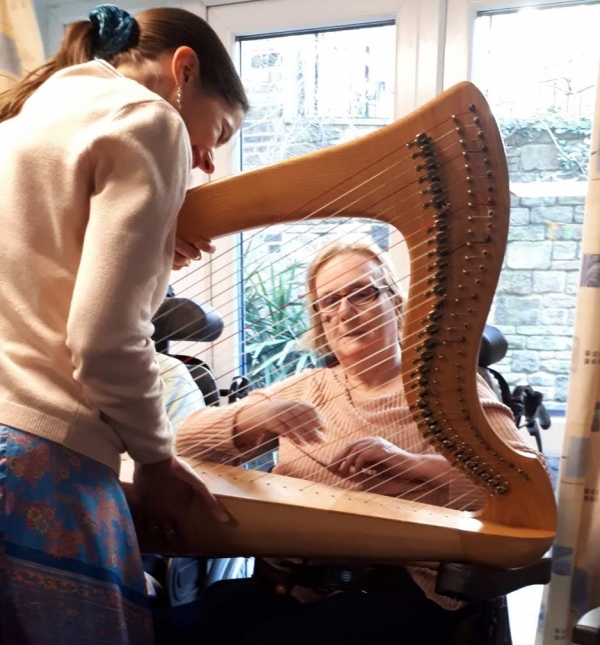 Residents are 'on song' thanks to therapeutic power of music
Research into the benefits of listening to music in old age continually points to the 'rock-solid' benefits of relaxing to some favourite melodies as a 'classic-al' way of beating the 'blues'.
It's well-documented that music can lift the mood, create a positive atmosphere, lower the blood pressure and reduce stress. Recent research even goes as far as saying that listening to music can boost the body's immune system.
Another major report, titled Live Music in Care, that was recently published, saw Live Music Now and the University of Winchester work together to investigate the impact of music on residents, staff and the whole care home environment. The independently evaluated results showed significant impacts for everyone involved, concluding that "carefully delivered music can provide significant benefits for older people, care staff and care settings, contributing to person-centred care."
The managing director of Czajka Care Group, Konrad Czajka, is a huge believer in the positive power of music and in conjunction with the managers of the West Yorkshire based nursing and care homes, they organise for a whole host of entertainers, performers and musicians to regularly visit all five homes.
Konrad Czajka said: "We've certainly seen first-hand the positive power of music at Czajka Care Group and in recent months we've had live performances across our homes from many musicians including harpists, ukulele players, opera singers and the Steeton Male Voice Choir, as well as hosting several hugely popular karaoke sessions.
"Our regular musical events are always very popular. It's common for everyone to listen to the type of music that takes them back to their youth and often individual songs can be very uplifting and highlight a special time or specific event in the past. The smiles on everyone's faces say it all really.
"Listening to music is also a great social event and having a group singalong is something that many of our residents enjoy participating in. We also have lots that will take to the floor and enjoy a dance at the same time, which is great exercise. The adage that music is medicine definitely appears to be true within our homes."
One of the most popular musical sessions at Czajka's care and nursing homes are provided by talented harpist, Rebecca Penkett. Konrad explains: "She not only plays the harp during the session, but gives everyone a chance to feel the strings and try their hand at the harp, which is an exciting opportunity that many of our residents of all ages relish."

Czajka also accommodates any special musical requests that it receives from its residents and recently booked regular performer Ukulele Henry for Trevor, who lives at Fairmount Nursing Home to help celebrate his 92nd birthday. Konrad explains: "If we can do something special for one of our residents then we will. It's all about the individual, and not only meeting their needs, but exceeding their expectations. If we can do that through music, or any of the other exciting activities and events we arrange, then we have succeeded.
"Anyone who knows us, understands that as well as the smooth day to day running of our homes, we make it our mission to enhance the lives of our residents by introducing them to a huge array of new and memorable activities, events, outings and experiences. We have recently welcomed two specialist companies to our homes that bought in a whole host of exotic reptiles and some extremely friendly lamas! As well as having regular visits from our lovely Pets As Therapy dog, Betty the whippet, we feel that bringing our residents together to take part in both new and familiar activities and experiences can only add to their quality of life."
Other Recommended Articles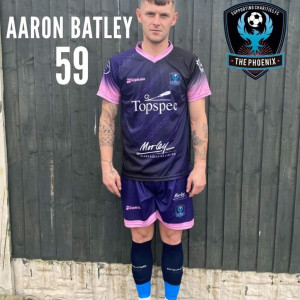 We are really excited to be sponsoring Aaron Batley from Supporting Charities Football Club.

The Charity Football Club is based in Bradford and play all over the country raising funds for many organisations and charities - over £73,000 raised and donated to date with ex professional players, Hollyoaks, Emmerdale stars and TV personalities all playing. At the last game £3,500 was raised for Cash for Kids & Rotherham Chartity Hospital.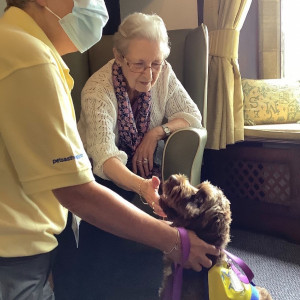 We were absolutely delighted to welcome Pets As Therapy dog Coco and her owner Mary to our Beanlands Nursing Home in Cross Hills, between Keighley and Skipton recently.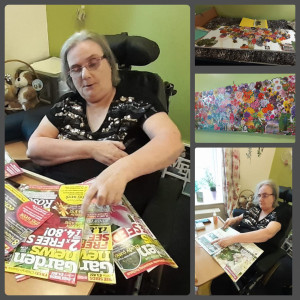 Our residents at our specialist nursing home for younger people - Staveley Birkleas in have been showcasing their fabulous arts and crafts skills recently.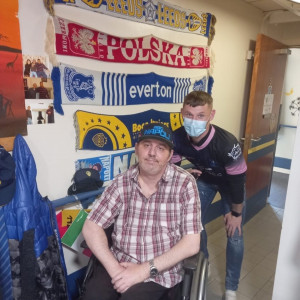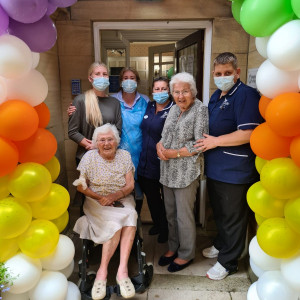 June and July have been full of love, light and positivity at our five local care and nursing homes.
As part of the first NHS Social Care and Frontline Workers' Day, the creative and hard-working teams at Fairmount Nursing Home and Brookfield Care Home in Nab Wood, Shipley and Currergate Nursing Home in Steeton and Beanlands Nursing Home in Cross Hills went all out to make sure everyone felt valued and appreciated.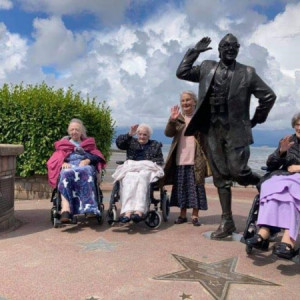 We had a fabulous day trip to Morecambe recently. The weather was kind to us and our Currergate Nursing Home ladies had a great time enjoying the sea air, local sights and a lovely lunch out.